Уголок анимешника
Обновлённая версия любимой классики)
✍🏻✉️Вайолет Эвергарден✍🏻✉️ — так хорошо как все твердят
Аниме «Вайолет Эвергарден» наделало шуму, но я всё не торопилась его «распаковать», а теперь с радостью досматриваю незаметно пролетевшие 13 серий и ж ду вто рого сезона. Думаю, сразу видно, что это аниме я очень полюбила. А в от за ч то, сейчас узнаете:
Год: 2018
Жанр: драма, фэнтези, повседневность, стимпанк
Сюжет: юная Вайолет Эвергарден долгое время провела помощником полковника Гилберта в армии, и, когда видела его в последний раз, мужчина приказал ей вести жизнь как полноценный человек а не как машина убийства, добавив, что любит её. Но эмоции Вайолет чужды, и девушка устраивается на модную в безграмотном мире работу — должность автозаписывающей куклы, девушки, которая составляет личные письма — чтобы понять, что же значат слова «я тебя люблю «.
📨 ПЛЮСЫ:📨
📨 Визуальная часть. Не хочу отдельно расписывать рисовку персонажей и пейзажей, проработку костюмов и анимацию. Просто скажу, что визуально аниме — чистая конфетка и смотреть его одно удовольствие. Много кадров можно разобрать на гифки и обои на рабочий стол , а мир, в котором всё происходит красочен и разнообразен.
📨 Режиссёрский подход. Нельзя сказать, что все аниме нынче делаются халтурно, нет. Но то, что количество и скорость ставят выше качества это факт. Поэтому меня очень порадовало, что при создании «Вайолет Эвергарден» уделили внимание таким деталям как построение красивого кадра и переходов от сцены к сцене, выбор подходящего саундтрека. Это мелочи, которые доказывают, что продукт делался не на отвали, а с любовью и уважением к зрителю.
📨 Наличие мистики. В аниме много чего неясно вначале — прошлое героини, будущее полковника, роль автозаписывающих кукол. И эти сведения раскрываются так, чтобы не вывалить всё сразу, но и не заставить нас скучать в ожидании нового открытия.
📨 Разнообразие любовных историй. Аниме оказалось куда более романтичным, чем я рассчитывала. Лейтмотивом проходит линия отношений Вайолет и Гилберта, где одна сторона вроде и признала свои чувства, а ничего с ними сделать не может, а другая не знает, что такое чувства в принципе. Однако кроме этого мелкие истории любви встречаются постоянно — то безответная влюбленность одной из «кукол», то договорной брак принцессы. И все они прописаны интересно и тонко. Мы словно учимся вместе с Вайолет различать и ценить человеческие чувства.
🔏МИНУСЫ🔏
🔏 Тон. Нет, я имею в виду не тон повествования. Всё весьма буквально — аниме сделано в неком приглушенном цветовом тоне (я слегка подкручивала в фотошопе кадры, использованные в этой статье, чтоб они смотрелись ярче), который заставляет вас думать, что качество хуже, чем оно на самом деле есть. Полагаю, такая пастельная цветовая гамма служит стилизации, но у меня она вызывала чувство, что надо где-то на мониторе подкрутить контрастность.
🔏 Ситуация с возрастом. Возраст Вайолет не обозначен строго, но на него намекают, называя её «дитя», да и сама Эвергарден говорит, что ей «должно быть около 14 лет». Полковнику Гилберту же 29. Однако само аниме словами персонажей заявляет, что возраст не важен , когда в одной из серий юная принцесса мечтает выйти замуж за мужчину на десять лет старше. Плюс, описанный период — явно не современность, так что можно сделать скидку на эпоху. Лично меня подобная разница в возрасте в аниме не беспокоит, когда все персонажи нарисованы так, что им может быть от 12 до 30 лет, но я понимаю, почему намёки на отношения между 14-летней и мужчиной под 30 могут показаться сомнительными.
🔏 Название . Мелочь, но из-за того, что «Вайолет Эвергарден» это и имя ГГ и название всего аниме в целом, вам придется вечно в поисковике уточнять, что или кто именно вас интересует — персонаж или сериал.
Аниме «Вайолет Эвергарден» мне очень и очень понравилось. Я люблю сложные романтические истории, где между героями встаёт какое-то препятствие, люблю и умную сильную героиню. Плюс, мне безумно импонирует аниме про писательство, так как я хочу быть писателем. Но все эти причины сугубо личные. Так почему же «Вайолет Эвергарден» стоит смотреть вам?
Всё просто: потому что это красивое интересное аниме, вокруг которого отаку подняли такую кучу хайпа, что вы теперь просто обязаны посмотреть его дабы проверить слухи. Я вот, например, проверила, и мне было приятно узнать, что хоть иногда сплетни не врут.
Источник
Violet Evergarden's Relationships
Throughout her life, initially as a mass-murdering soldier and later as one of the most famous Dolls in the amanuenses industry, Violet Evergarden has formed many relationships. Despite her expressionless and aloof personality, she is considerate and empathetic, always striving to help her clients no matter what. The impressions from those who have met her are many; some say her voice is pleasant, some would say her handwriting is pretty, some praise her charms by claiming they had been bewitched by her, and some would say their hearts were saved by her. Her clients note that she has a special power of saving people and reshaping their lives. [1]
Contents
Gilbert Bougainvillea
This section contains content from the Violet Evergarden light novel series.
Violet's strongest relationship is undoubtedly with Gilbert. He was Violet's major in the army; he was the only person who saw her as a normal human being rather than a tool. She became very attached to him due to him being the first person to show her kindness and compassion. During their first meeting, Gilbert immediately embraced her, such a thing being done to Violet for the first time in her life.
Violet is embraced by Gilbert during their first meeting.
Due to that, she felt like she couldn't listen to orders from anyone except for Gilbert, him being the person Violet thought to herself to follow. Violet is extremely loyal to Gilbert, and he also became a source of strength for her, as she claimed that she would be able to do anything if she had Gilbert's orders, to which Hodgins claims that she is obsessed receiving orders from him. [2] [3]
Violet vowed to be useful since she was his tool and since he needed her. Despite Gilbert is fearing her ability to kill at first, Gilbert came to genuinely care for her deeply, and Violet developed a deep respect for him since he kept her by his side; in Violet's world, he was and still is the world to her. She cares for him to the point where she prioritizes his health over her own, to which she is very devoted to him, lives to protect him and will turn violent if he is attacked. When she becomes injured, she does not care about her own injuries, but only about his well-being. [3] Violet learned speech, writing and different emotions from Gilbert and the two grew very close during the four years they lived with each other. [2]
After the war, Violet thought it would appropriate to throw her away since she had lost her arms and couldn't be «useful» to Gilbert anymore, and she was very lonely without him as she wrote letters to him and constantly tried to find him. She misses him dearly and Violet states that there is not a single day that goes by with her not thinking about him. [4] Despite being absent for a long time, Gilbert plays a huge role for Violet, as she associates many feelings and memories with him. She often thinks back to him when she is feeling insecure or lonely, and he indirectly gives her mental support. Gilbert's influence has also stayed with Violet the whole time, and he is very precious and dear to Violet, which is why she is very determined to learn the meaning behind Gilbert's «I love you», in doing so, she comes to do many things she hadn't prior. [5]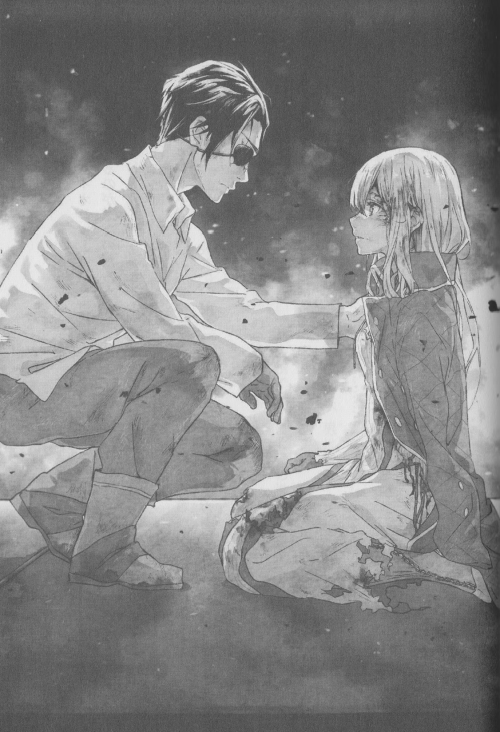 Violet reunites with Gilbert.
However, Violet became utterly depressed and was in shock, frustration, and sorrow upon learning that Gilbert has supposedly died. She had a really hard time accepting his death and neglected her work for a while since she refused to believe Gilbert's fate. [6] But with the help of her friends and co-workers, Violet slowly began to recover and come to terms with it. Violet also states that she will freely live, leaving her life in the war as a soldier and a weapon behind since that is was what Gilbert had so deeply wished for. [7] [3] [8]
Even though Violet denies being in love with Gilbert since she doesn't understand love, Violet knows that she wants to be by his side forever, and it is evident that she is in love with him due to her actions. Several people Violet has met has drawn the conclusion that Violet is in love with Gilbert due to her great devotion, care and love towards him. [4] [7] It is more obvious though that Violet loves Gilbert as family, since he was the only support system she ever knew, along with being her caretaker. After their reunion, Gilbert still very much loves Violet, and she, as well, has come to understand the concept «love» and her feelings towards him slightly better. However, Gilbert decides to wait for Violet until she truly understands the words «I love you», and he wants her to, when that time comes, for her to accept his love. [1]
CH Postal Company
Claudia Hodgins
Violet has a deep respect for Hodgins due to the reason him being a former Lt. Colonel in the army and her boss at the CH Postal Company. At Gilbert's request, Hodgins began watching over Violet after the war and was also the one who picked her up from the hospital and gave her the work at the CH Postal Company. Hodgins claims that she is still useful and could work as a regular human being with Violet thinking otherwise. Violet is grateful for this and asks to work as a Doll. When she starts working at the CH Postal Company, Hodgins supported her despite her frequent mistakes in the beginning and didn't want to fire her when Hodgins was advised to do so by others. With Hodgins' guidance, Violet eventually developed into a very talented Doll. [9] [5] [10] It is also indirectly because of Hodgins' words that Violet learned that she had many burn marks from her past, which, among numerous other reasons, made her very upset. However, Hodgins ensures her that it is okay for her to live on and that although what she had done in the war can never be undone, it also applies to all of the good deeds she has done as a Doll. Thanks to Hodgins and her friends' support, Violet was able to slowly move on. [8]
Lux Sibyl
Violet met Lux in Utopia on the isolated island of Chevalier. Together, they went through an ordeal of surviving being a sacrifice of a religious cult, which was the starting point for their friendship. Violet was the one who made Lux realize that she was being trapped at Utopia, and encouraged her to leave the place when she didn't have the courage to do so. When Lux desired to die at Utopia due to her fear of the outside world, Violet came to save her. Violet relates to Lux's situation and claims that she is the same as her, as Violet too had not known of the world outside of her own world, the military. But just like Violet had been chosen to live her life, she encouraged Lux to do the same in order to experience new things in the world like she hadn't prior. Violet then took Lux to the CH Postal Company so she could start working there, and after that, they develop a close friendship, to which they began talking with each other without honorifics. Lux becomes Violet's first tea friend, and although Violet is a highly-requested Doll, Lux would invite her for tea when Violet had time. During those times, they would report their recent situations and different journeys they had been through to one another. Lux says that she is forever indebted to Violet for saving her, and says that Violet is the friend she was proud of having. [11]
CH Postal Company Clients
Charlotte Abelfreyja Drossel
Violet became friends with Princess Charlotte after she was assigned as her personal Doll. In the beginning, Violet's expressionless personality got on Charlotte's nerves, but she eventually warmed up to her. Violet genuinely cares about Charlotte, as she expressed her desire to stop Charlotte's sorrow and tears as in her anxiety about marrying Prince Damian. She wanted to help Charlotte as Violet Evergarden, not as her Doll. Violet then takes full responsibility in with talking with Damian's Doll and arranges to have Charlotte and Damian write their own letters to each other since the CH Postal Company wouldn't stand for any of that. Violet then stays by Charlotte's side and helps her with her letters. Although Violet couldn't attend Charlotte's wedding, she is seen to have given a bright, genuine smile for the first time on screen, due to being content and happy with Charlotte's happiness as in her love coming true. [10]
Leon Stephanotis
Violet was partnered with Leon when scholars and Auto Memories Dolls are paired for a collection of research pieces at the Shaher Astronomical Headquarters. Although Leon treats her coldly in the beginning, Violet doesn't really mind. Since they finished a three-days worth work in one day, Violet remarked about Leon being amazing, and Leon is also impressed with how quickly she works.
Violet and Leon.
When other scholars remarked about Leon's rude attitude and how he was abandoned by his parents, Violet stood up for him by saying that she is an orphan too and had not even seen her parents' faces. Although Violet claimed she was only stating the facts, she said that she had also defended Leon since he is being her partner. Because of how similar they are, it makes it easy for them to sympathize with each other, and Violet notes that the two of them are alike. Leon then starts to develop feelings for Violet (his feelings are implied in the anime).
Before Violet's departure, Leon musters up his courage and confesses his love for Violet. However, Violet couldn't accept his confession since she didn't feel like she wanted to be with him in that way, and since she already had someone else very dear to her. However, Violet is genuinely happy by his confession, and she is grateful towards Leon for showing her the stars and comet, in which she felt like she was «having fun». She also had a sensation that Leon treated her as a normal girl, which Violet appreciated. Even though she doesn't like him, she still felt like if they would ever meet again, she'd like to spend time with him like that again. Leon is content with this, and he then tells Violet that he will expedite around the world like her and that he would like to watch the stars with her again if they would ever meet again. Violet gives him her word and is happy for Leon for finding his new aspirations.
When they meet again, Leon is aware that he is still in love with Violet and that his feelings towards her would not budge, but he decides to put that fact aside and ask her to watch the stars with him instead. Violet agrees, and as she had promised, she memorized the name of a few stars for Leon's sake. [4] [12]
Oscar Webster
Oscar hired Violet to help him write a children's play starring a character based on his daughter. Although Violet was blunt with him and considered him to be troublesome, she helped him in every way she could, from making meals for him to helping him visualize a scene based on a wish of his daughter's. Violet is saddened by how Oscar lost his daughter and empathizes with Oscar's sadness from losing the people dear to him. After seeing Olivia's wish realized through Violet, Oscar began to come to terms with the loss of his daughter, to which Oscar is deeply grateful for towards Violet. [6] [13]
Anne Magnolia
Violet met Anne when her terminally ill mother, Clara requested her to write fifty letters to Anne for the future. Anne was distrustful towards Violet, but Violet never lost her composure during the whole week and treated Anne bluntly, yet with respect and kindness, calling her «young mistress». When Anne became interested and ultimately very attached to her, asking to play with her all the time, Violet remained calm and although she was challenging to stick with, Violet did not neglect her in any way and gave her the attention she needed, since Violet knew Anne was lonely due to Violet spending a lot of time with her mother, working. Violet understood Anne's desire to spend time with her mother, which is why Violet would tell Anne she would leave soon when they were done.
Violet embraces Anne.
When Anne had a sad and angry outburst, Violet comforted Anne by embracing her, telling her that she was free to cry. She managed to calm Anne down and convince her to not blame herself for her mother's illness. Violet then confessed that she thought that Anne is a very gentle, respectable, and strong girl to accept her mother's disease, as Violet claims that children her age would usually not complain or care for someone to the extent Anne did. This event would leave a huge impact on Anne as she grew up, as she claims she would never forget Violet who had embraced her when she was young. [14] When Violet returned back to the post office, she is overcome with emotion at the thought of Anne is having to live alone after her mother's death, and admits that she held back her tears the whole time she was at the Magnolia residence. [15]
Aidan Field
Aidan entrusted Violet to write the letters for his loved ones before his death, due to being a soldier in a civil war in Ctrigall. Even though Hodgins refused the request due to the danger, Violet went there to convey her client's feeling. Violet did everything she could to find and rescue Aidan, from arriving by parachute, defeating his enemies and taking him to a safe cabinet where he believed he was mortally wounded. Violet was beside Aidan the whole time and promised him that she would convey his feelings to his parents and lover to matter what. During his last moments, to ease Aidan's loneliness and give him some sense of warmth before his death, Violet held his hand and kissed his forehead. When Violet delivered the letters to Aidan's loved ones, she broke down in tears, apologizing for being unable to protect Aidan. [16] [17] Even after Aidan's death, she blames herself for his death, but respects him a lot. This is why she was seen being enraged at Aidan's former enemies who mocked him for dying, to which she attempted to gravely wound them. [18]
Friends and other Acquaintances
Luculia Marlborough
Violet met Luculia at the Auto Memories Doll Training School. Like everyone else, Luculia thought that Violet stood out from the crowd as she was a bit eccentric, but she didn't think much about it and later started a conversation with Violet. They also practiced their ghostwriting skills on each other, and after that, they developed a friendship to the point where they don't use honorifics with each other. When things didn't go as planned for Violet at training, Luculia tried to cheer her up by taking her to her favorite spot. Since Luculia had done so much for her, Violet also came to care for Luculia, and it is also thanks to her that Violet learned the emotion «gratitude.»
Luculia hugs Violet out of joy for her promotion.
Since Luculia had always wanted to thank her brother for coming home for the war but couldn't find the words to say so, Violet managed to write a short and concise letter that effectively conveys Luculia's feelings to her brother, to which the latter is really grateful for. Luculia is also very happy that Violet was able to become a Doll and hugged her out of joy, and she claims that Violet also taught her the most important aspect of being a Doll. [19] It is evident that Violet doesn't want Luculia to worry, as when she was concerned about how Violet was feeling, she gave her a smile as to not make her worry. [4] Just like Luculia has been happy for Violet's achievements, Violet, as well, has been supportive of Luculia and will praise her achievements and good deeds. [20]
Dietfried Bougainvillea
Dietfried was the first person Violet met as long as she can remember, and the first person whose orders Violet followed. Even though Dietfried made her into a weapon and even claimed to have punched and kicked her, Violet respects Dietfried. On the other hand, Dietfried hates Violet so much that he cannot bear it, and is disgusted by the fact that she is now a Doll who writes letters who brings people together, since she had murdered so many people, including his men. [6] It is due to his words that Violet's self-confidence starts to shrink, and she even begins to question her own living. [21] However, whenever Dietfried makes a statement that she is only a weapon who follows orders, Violet denies this every time. She also denied to kill herself when she was ordered to do so by Dietfried since she was told to live. Although Dietfried harbors a strong resentment towards Violet, she claims that she doesn't hate him and will even try to help him if he needs it. Dietfried doesn't want Violet's sympathy though, but he does come to accept her as a Doll and as «Violet Evergarden», not a tool. He also tells her to swallow all of her past crimes down and live life to the fullest, and not to blame her sins on anyone. And when she is done, he tells her to die. Violet describes these words as «encouragement». [22] [18] [20]
Источник